A giant leap above others
We've been in business since 1997 and we continue to develop our operations everyday throughout the UAE and KSA. Over the years, we've put emphasis on higher quality and explored best practice adaptation to value innovation. We've built a robust system with an aligned passion to improving efficiency and productivity in ready mix concrete application to be your preferred choice.
We're a premium supplier delivering high quality products & service with reasonable pricing. All our customers are delighted when they experience the value we provide while being within their expected budgets. The customer comes first and we make sure to go to extra distance to give you a bang for your buck!
Many projects have their own unique demands and we provide our own in house engineering department to engineer concrete just for you while our logisticians create a plan to deliver it to your site.
We are always committed to providing the best service on top of a high quality product. Our fleet's latest addition includes 50 brand new Mercedes Benz trucks with each having a 12m³ capacity, 20 brand new 13 m³ Ford trucks, and 9 brand new Putzmeister pumps reaching up to 56m in length. "On Time, Every Time" is the motto we stick by which is part of why we have been the number one choice in this industry for over 22 years.
Our planet is home to all of us and we are committed to keeping it clean and green. We use eco-friendly materials in all our products since 2005. Just as we care for our planet, we care for our people. All our employees' safety is a top priority and we ensure everyone has the proper equipment & training to stay safe. One of our proudest accomplishments was a perfect HSE record of over 70,000 man hours on the Salam Street Upgrade project with Samsung C&T.
Ultra Quality Concrete, Service, & QA/QC Systems
We are an "A" priority class concrete supplier that NEVER compromises quality nor service for any reason. Known for quality and reliability, we strive to give you a smooth and hassle free experience.
We produce the highest quality concrete using the finest premium raw materials, engineered concrete mixtures, and well-maintained equipment. We've been well recognized through our awards, research work, and prestigious projects. We always strive to lead in innovating new products with benefits such as reduced cost in construction and increased service life in concrete structure for the clients. Our vast experience helps us collaborate with regulatory bodies and industry to improve circulars and guidelines.
Technical &
Logistical Support
Empowered by commitment of top management, our establishment applies best practices supported by integrated system and suitable inspiring work environment. We work on employing and training a diverse technical experts who are able to take initiative and transfer company product and services into high added value solutions.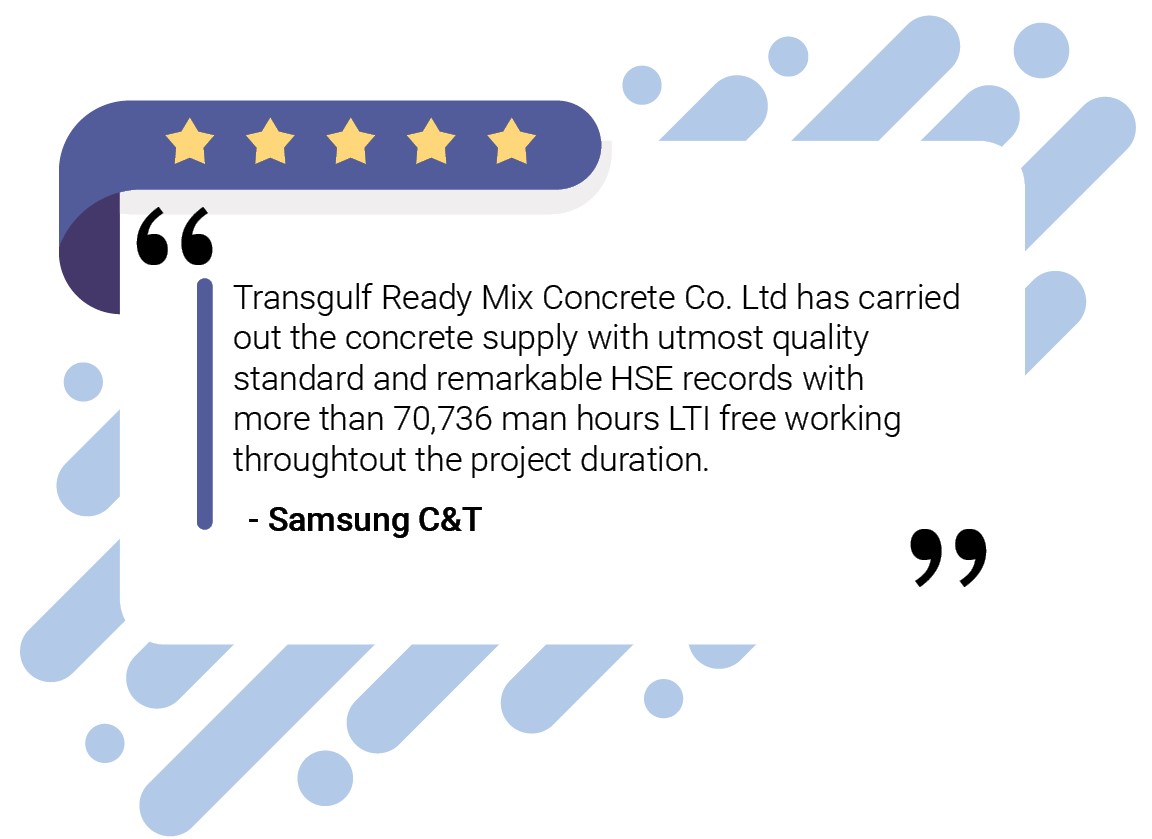 Customer's Happiness Choice
Your support is why we continue to lead this market in quality, service, and happiness. 
Our customers are our friends and we show our appreciation by giving back to our community. We support universities and the future generations to come by sharing our knowledge and research laboratories.
 Your opinions matter to us and every voice is heard. We take every customer's feedback starting with the people on the ground to management at the top. Your voice helps us engineer possible solutions to your problems. Our team is continuously look for ways to save you money while maintaining our high performing service and quality.